Farm to Table Dinner: Success!
Farm to Table Dinner: Success!
Nov 21
Yesterday marked the start of what I hope is an annual tradition: The Winter Park Harvest Festival, followed by a five-course "Farm to Table Dinner." The festival, organized and driven by one John Rife, was, at its heart, a giant farmers market, buoyed by the presence of numerous local community gardens and elevated into something entirely unique by back-to-back seminars, workshops, gardening demonstrations, cooking demonstrations, live music, a film screening (Fresh), and kids' activities.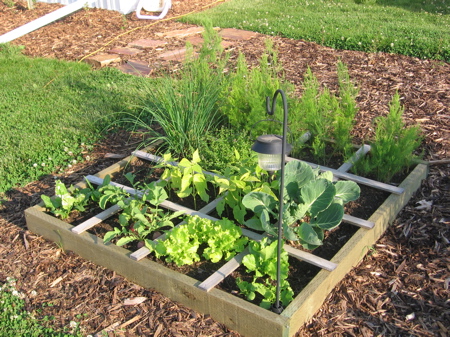 Laura and I met some family members at the festival to enjoy the free gardening demos and peruse the many eco-friendly vendors that had gathered. We listened to an informative talk on square foot gardening, an entertaining talk on basic organic gardening presented by Simple Living Institute, and even heard part of a presentation from Wild Ocean, a local seafood company based in Titusville. We talked to the friendly folks from Our Vital Earth, who adamantly advocate worm composting and the fertilizer it creates, and rediscovered the Homegrown Co-Op. Unable to resist, we bought a grass-fed rib-eye steak which, by all accounts, should taste vastly different from industrially produced beef. We plan to buy a standard rib-eye from our grocery store, cook the two, and compare the flavors for ourselves.
Of course, the pinnacle of the festival was the dinner, an event with limited seating, exclusive live music, a host of hors d'oeuvres, and free-flowing wine. Tickets for the dinner were initially intimidating, at $95 per person, but now that all is said and done, it was entirely worth the cost. To begin with, it was a three-hour-long, catered experience, not just your run-of-the-mill in-and-out dinner. Roughly twenty hors d'oeuvres were set out before dinner, including local pork mini BLTs, mini Ruebens, rabbit rilletes with crispy panko, lamb meatballs with mustard, and smoked duck confit and potato salad topped with duck cracklin'. As if those aren't enough, each table was beautifully set with two loaves of bread and breadsticks made locally by Olde Hearth Bread Company. Drinks included red and white wine, soda, cucumber mojitos made with locally distilled vodka, and a pomelo-aged pale ale brewed ONLY for this dinner.
Our first course was creamy zucchini soup in an Olde Hearth bread bowl, which was perhaps a little too creamy, drowning out the bright flavor of the zucchini. The second course was a salad from our friends at Luma on Park, an unexpected delight that combined a whole mess of ingredients into a balanced dish. The third, fourth, and fifth courses were served together, family-style, in large bowls, and consisted of pork tronchetto (pork wrapped in pork and smoked for 24 hours), local ratatouille, and savory chestnut bread pudding. All of these were scrumptious and made me want to eat far more than is healthy. For our final course, we were served a Bartlett Pear torte with a dreamy consistency and an enjoyably strong flavor of butter.
If this doesn't sound like a $95 dinner yet, I should point out that of the two local folk / bluegrass bands who played during our meal, one (Jubal's Kin) is among thirty-five folk bands being considered for a Grammy Award this year, and all three members happen to be under twenty-five. It's also important for me to note that most, if not all, of the ingredients for our dinner were local to Central Florida (from Ocala in the north to Tampa in the south) and produced by family farms, which always cost more than industrially-produced ingredients.
Overall, I believe the high cost of this dining experience was very reasonable. Here's my theoretical breakdown of a comparable evening elsewhere:
Drinks (3 glasses white wine, 1 mojito, 1 draft beer, 1 soda): $30
Appetizer (assorted gourmet hors d'oeuvres) x 2: $26
Soup (in a bread bowl) x 2: $14
Salad x 2: $14
Entree with two sides x 2: $46
Dessert x 2: $10
Tip: $18 (assuming the service was mediocre)
Concert at a local venue x 2: $30
The total cost here for a conservative dinner and concert at a nice restaurant would be $188. We spent $190. And any extra money made from the dinner was to be donated to the financing organization, Our Whole Community, an inter-faith association dedicated to providing local healthy food to the community. So $2 to charity? No problem!